Exactly 3 years back I was in Kuala Lumpur at Air Asia's office trying the New Food menu. The Santan Food Menu.
I was extremely delighted to be a part of the activity then, and it continued every year, I have been trying their food menu at Sky Chef, Delhi, apart from relishing it on my Air Asia Flights.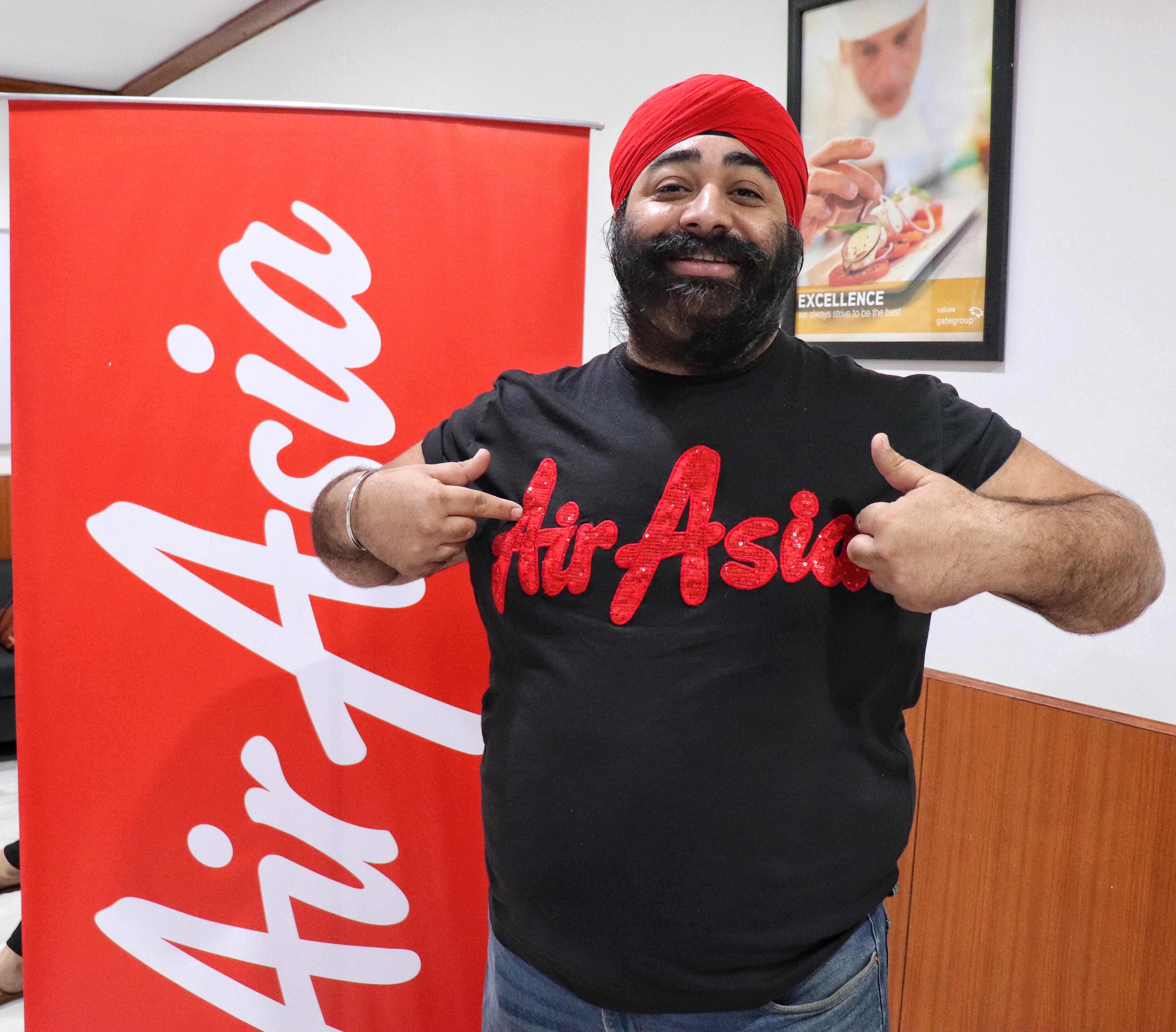 Now let me tell you quickly that Air Asia has re-done the entire Menu and also added some dishes.
The New Menu is Nothing less than a Foodies Delight.
Today most of the Airlines are moving from a Good Cooked Meal to Packaged Meals, But here Air Asia is adding New Variations to its existing Meal Options.
Let me share 5 Dishes that you must try on your Next Air Asia flight and why.
Special Jain Meal – Kadhi Pakoda Chawal
Now, this is for Times when either you prefer Jain meal (Without Onion Garlic or when you are flying in Navratras ya fir jab aapka simple Karri Chawal khaane ka mann ho).
Tomato Flavoured Rice and mast ghar type ka Karri Pakora.
Marinated Grilled Basa
Now, this is not only GOOD FOOD but also has a great story too. This was the favorite dish of JRD Tata also known as the father of Indian Civil Aviation. Tata group is a Partner in AirAsia India and hence this is a tribute to him. I tried the dish and it was great. It's a piece of Grilled Basa dipped in Parsley lemon Butter and comes with a medley of vegetable served (Beans, Broccoli & Cherry Tomato) on a bed of Mashed Potatoes.
Multigrain Biryani
Ab biryani is one dish jo jab marzi kha lo, Kaise marzi Kha lo, Jinti marzi kha lo and when you get it at 35000 Feet above the ground then baat hi kya. Waise to "Veg Biryani" koi Shabd nahi hota, but then Biryani to ehsaas hota hai, jaise marzi mehsoos karo. The Multigrain Biryani (Less Spicy) with Mixed vegetables is a delight.
Dilli ki Raseeli Rajma with Jeera Chawal
Ha ha ha ha……. Naam mein Raseela likha hai ki naam parrte hi swaad aa gaya Rajma Chawal ka.
One Dish jo aap ghar se chahe jitna dur chale jaao (In this case 35000 Feet Vertical) ghar ki yaad dila hi deti hai. The Dish is a perfect Comfort meal on a flight that makes your tummy Tastefully full and your face glowing than before. They have taken care ki each rice is covered with rajma Curry and still, there is no overflowing curry that may spoil your clothes.
Cheddar and Chives Omelette
Another of JRD Tata's favorite and now mine too. Loved the Cheddar and Chives Omelette, super cheesy and fluffy unlike I have eaten on other Airlines. And the best part is that it comes with a Chicken Seekh kebab, Potato Rosti with Grilled Tomato Wedges. This meal prepares you for a perfect Morning meeting at your destination.
New Menu gets rolling from the First week of May. 
Oh yes, they have a Kids Meal too. A Pizza.
Advance mein Book Karoge to 10% Discount bhi 🙂
Do tag me when you have a meal on board Air Asia Flight, Accha lagega 🙂
.
Glad to enter my Third Year of Chotti si Pyari si Association with Air Asia. And I'm proud of it 🙂