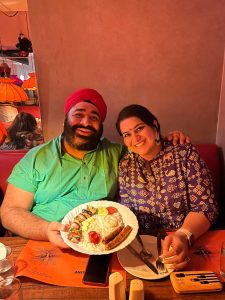 Save it, and Share it before you read it.
After a Long time here is a dish that deserves a post of its own.
My first trip to Beautiful Calcutta was in 2007.
We had appointed a new Distributor for East India for our Brand and uska launch tha Saturday Club mein.
Social Media to nahi tha aise par dost yaar se pooch liya tha ki kya khaaye kahaan khaaye.
Rajdhani Train se pahunche hum Kolkata, Bhawanipur mein ek 2 star Hotel mein ruke, Press Conference hui, Launch hua and then agle din bas BBQ and then Flurry's par hi khaana khaane ka mauka mila. 
On the next trips also Mocambo & Peter Cat were on the Top of my list. Par chakkar lag hi nahi paaya. 
The same happened on my second trip. The third trip was to speak at Digital India Summit and wahaan se to free hi raat ko 11:30 hue and all we could do was go to Balwant Singh and have unki kulharr waali Chai and Pakore.
Iss saal January mein Kolkata gaye & socha iss baar pukka jaayenge, Shoot bhi karenge. Par uss trip mein to "Wrist mein Twist" ho gaya after Humpty Dumpty had a great fall and Plaster lagwane Dilli aana parra.
Iss baar Pehle se fix kar liya tha, First day Dinner at Peter Cat and Second day Lunch at Mocamobo.
Hum 9:30 pm pahunche Peter Cat & Bhar bahut Rush tha, Normal 90 Minutes waiting.
Par then humare saath Joyeeta jee thi and she had made reservation pehle hi (An Impossible Feat in Durga Puja Times)
Andar gaye Andhera tha, we got a table in extreme end jahaan aur andhera tha and the only roshni came from the Lights Hanging on top of each table emitting Laal Roshni.
Ab yaad aaya, Let me talk of 2 dishes & not one
Pehle to humne mangwaya "Prawn Cocktail". Na Baba Na, is not a drink with Prawns in between this is Prawns mixed with some sauces, Mayo and served in a HEAVY Brass Utensil jiske niche barf thi to keep it Chilled. Samjho Presentation ne hi poore 100 number le liye. Picked up my spoon, Dipped it in the Katori and took a Bite. Food Blogger har cheez ko Food Orgasm bol dete hai. Par sacchi mein, THIS WAS PURE FOOD ORGASM. 
Priced at Rs 350/-, This is the best Rs 350 you will spend on a Dish.
Ab uss Hero ki baat kate hai that made me start writing this.
Chelo Kabab (Rs. 525) I had heard ki yahaan Chelo kabab best hai. Andar enter kiya to almost har table par Chelo kabab ka ek platter parra tha & looked Good. 
Ab Mujhe laga ki koi garrbar na ho jaaye so jab waiter bhaiya aaye I pointed my finger to saath waala table to task, "Yehi hai na Chelo Kabab". Jawaab haan aaya and we ordered 2. 
Warning – Don't Share it with anyone.
10 mins mein, the Platter was on my Table.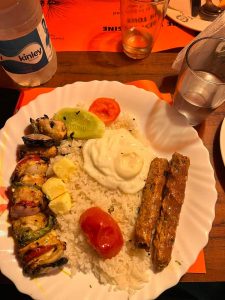 Beech mein Bed of warm Rice, Uske uppar 2 cubes of butter that are melting on the rice.
Centre mein ek Grilled Tamatar. Ek side par 2 Mutton Seekh kabab ke Piece and ek side par Chelo Kabab ke poori seekh nikli hui. Chelo kabab ke pieces, beech mein grilled Tamatar, Pyaaz aur Simla Mirch.
Arre haan saath mein 2 Eggs ka "Well done fried egg" bhi.
Sath mein Mangwayi Thumsup. Aapko yeh keh sakta hu ki Har Bite aapke pait mein nahi, Dil mein ja rahi thi 🙂
Pro Tip – Order a Dinner Roll with Butter – Rs 85 Each and aapki Meal poori Cpmplete ho jayegi 🙂
Kolkata jaaye to yahaan aur yeh zaroor Khaaye jee 🙂