Delhi-Amritsar Flight takes an hour to reach and we have specially taken that flight twice to pacify our hunger for Amritsari kulcha.
Kuch hai Amritsar ke Paani aur Hawa mein ki the same Amritsari kulcha can't be replicated anywhere else. So, now I have stopped searching for the same taste in Delhi or even any other city of Punjab.
On 1st January, I wanted to try this new outlet Kulcha Junction behind Gurudwara Bangla Sahib. Many of my friends have posted about their GREAT experience on our group Mister Tikku & I have been craving since then.
So, 1st January ko subah Gurdwara mein darshan kiya and when I reached Kulcha Junction at 9 am, i was told ki shop shall open at 11. Now, this did not make me happy. Breakfast Item ki dukaan dopahar mein kholna was not good news, specially on 1st jan when people would start thronging the Gurdwara Sahib early morning se.
Anyways, mood to tha and mood ko kaise naraaz karein,
Only other option that came to my mind was Kulcha King at Sarojini nagar. Ab I have eaten at that place many a times. Last time 2 years ago. Par jab se AMRITSAR waale khaaye hai, tab se have stopped eating here as the level is very different when compared.
Still, socha try karte hai. I called and got to know ki 9: 30 tak they shall be ready. And reached there.
Somehow the expectations were not very high so experience was on accepted lines.
Ab, Kulche ka keerra to dimaag mein tha hi, and when last week a friend mentioned about KULCHA CONNECTION in FARIDABAD, I quietly stored it on the back side of my brain ki sahi samay par iss parchi ka istemaal krenge.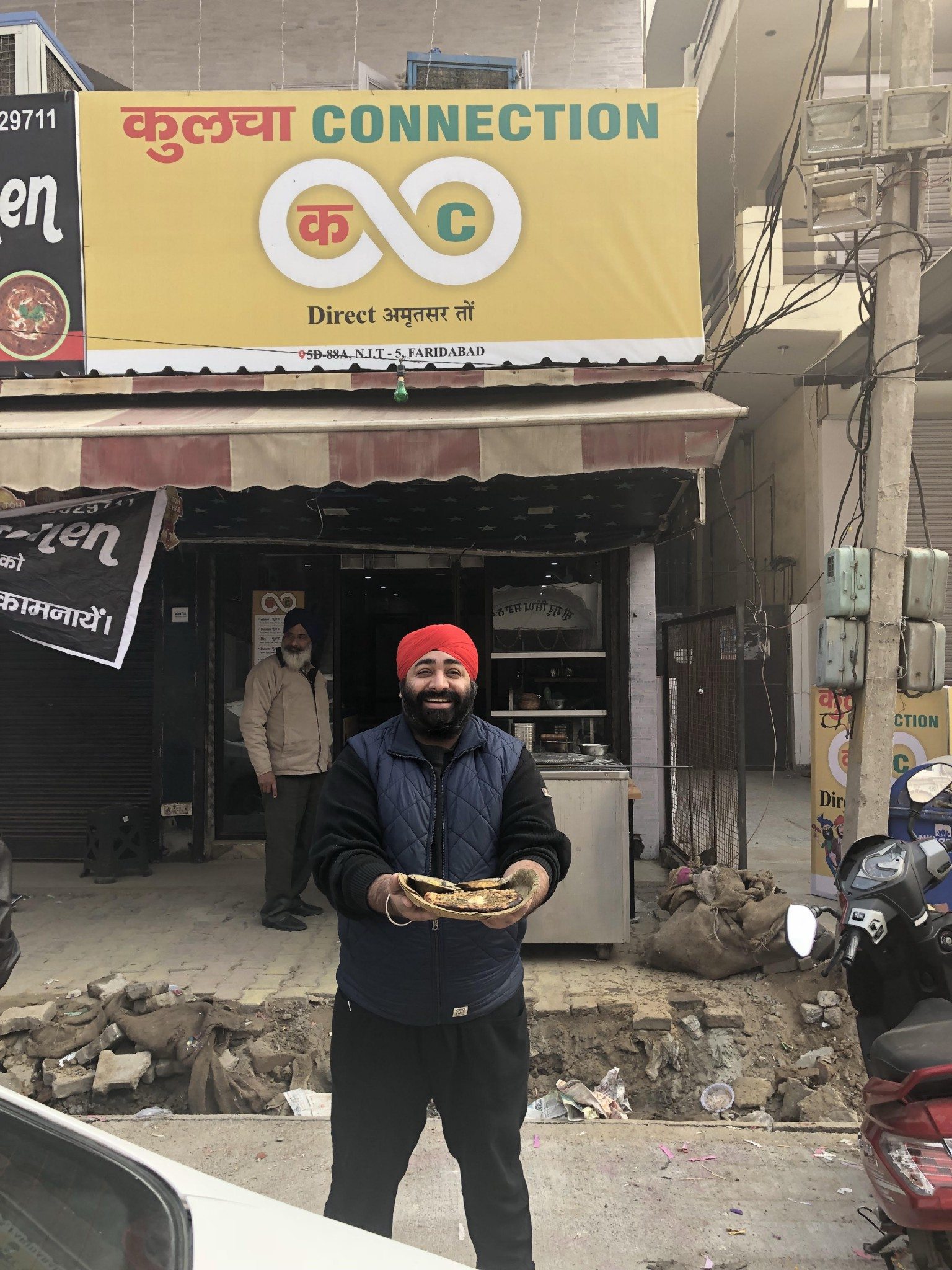 This wednesday during our event at Limitless, Abhishek Bhai & Dhawal Bhai mentioned ki Faridabad ke Amritsari Kulche mast lag rahe hai. And maine woh parchi nikaali and said haan haan,,, I have also heard, chalo chalein. And bas plan ban gaya saturday morning nikalne ka.
Though we knew ki it opens at 8, we did not want to take that risk and left at 8:30 to reach at 9 45. Yes, more than the time Amritsar Flight takes to reach there from Delhi.
Google Maps ne mast bilkul shop ke aage laakar kharra kar diya.
Ab saffai ho rahi thi and mere mann darr gaya.
But we were welcomed with open arms and said, "Tussi baitho, Tandoor nu 10 minute lagange"
And mast adrakk waali chai was prepared for us.
Baato baato mein pata chala ki Kal Gurpurab tha and hence they were serving Kulchas to all the satsang as langar till 1 am. And hence dukaan late khuli aaj.
Ab,we sneaked out to see how wonderfully the Tandooriya was rolling the dough to make multiple layers of Amritsari kulcha. One of the biggest pehchaan of Amritsari kulcha is its Flakiness and that comes from layering.
Flakiness nahi hai to samjho woh Naan hai Kulcha nahi 🙂
We saw 4 Types of Kulcha on menu, Aloo, Paneer, Mix and Masala.
We ordered 1 of each.
When you sit inside the Shop that has sitting for 16 Plus Kulcha Lovers, you cannot miss the view of Gurdwara Sahib outside. Aisa lagta hai aap faridabad nhi, Punjab mein hi baith kar kha rahe ho. Full marks to the owners for picking this location.
Ab Last week when I had Kulchas at Sarojini nagar, I was highly disappointed to see him serving them in Thermocol ki plate. Yaar sacchi, poori feel kill ho gai thi. Steel ki plate would have been just perfect background for Amritsari Kulcha.
Par yahaan I was happy to see Pattal ke donne and plate. Feel hi aa gayi. Yes, I would still prefer Steel ki Plate, but I understand that for that they would need an employee whose only work is to wash plates. And have to admit, Pattal/Banana leaf are more hygienic than Steel ki shabbily cleaned plates.
Anyways, Khaane par aaate hai,
One bite and you know ki this is the best you have in and around Delhi.
Full on Flakiness, ki har bite ke sath chrr ki awaaz aaye, perfect Stuffing and well cooked.
Pyaaz wali chutney is an essential part of the dish and they had prepared it very well. Cholle acche the, par I believe ki they were a bit bland, but then since when mixed with chutney they were perfect, so I have no reason to complain.
Also, somehow I believe ki in one dish ,if every component is strong then they start overpowering and killing each other. Here Kulcha is the King and should remain that.
My favourites were Masala Kulcha and then Paneer one too.
At Rs 70 per Piece, this is perfect breakfast.
While your order gets ready, do look around the walls, they have some quirky Punjabi posters to keep you amused. 🙂
Hokar aayiega, Jaana Banta hai 🙂
Kulcha Connection is the perfect Connection to Amritsar for Kulcha lovers in Delhi NCR.
And meri Kavita sun'na chahenge?
Yeh Lijiye 🙂
Search for Kulcha Connection on Google Maps!