Every Human goes through Endless Moments, Experiences. Some Good, Some Bad & if you look closely then one can see a Story on the face of that Human Being!! This is an Effort to Compile some photos that I have clicked over the years and would be doing in future to Salute this race of Humans!.
This is a Small effort to Organise pics under the Theme
"Har Chehra "Bahut Kuch" Kehta Hai!"
This is the 4th Part of the Series and today being the Women's Day on 8th March, we dedicate it to some strong faces captured in past few years. Each one tells us a Story. A Story of Strength, Power, Hardships. If you observe closely you may read some stories within the wrinkles of her face
This one was shot in 2014 at 7am on the streets of Chawri bazaar. The Lady surely has  seen some hardships and she has come out unscathed every time. Her Strong Face tells us that she must be a leader who does not only defends her self but is also a huge Support System for people around her.
This was shot in 2014 in Pattaya, Thailand. This is one country where we have seen that the working population of women is more than of men. One can find women everywhere doing all kinds of work.
I was relaxing on the beach when this lady came over to sell some Snack Bowls. I ordered a few and could not resist looking at her for longer than a respected time. She was so graceful. At the same time it was her mind also that caught my attention as it seemed it kept calculating some thing or the other. Her mind seemed to me like a furnace, Thinking about her own Burning issues, however on the face she was calm as a water in a small lake.

This one was again shot in Thailand. At Safari World, Bangkok. We reached at the Giraffe feeding point very late. So late that it was time to close the point. At this point, we had to purchase small Bananas that were given in a basket. And with help of a pointed stick, we got the opportunity to feed them to the Giraffes (We were at raised Platform)
We got 3 baskets of Bananas and my Daughter Gurbani used the most of them as she was very excited doing so. Seeing her Excitement, This Aged Smiling lady gave her the last bucket of Bananas (Without charge) to feed the Giraffes and this gesture made all of us happy. Her Infectious Smile and positive Vibes made me request her to allow me to click a pic of hers with Gurbani. I'm so Glad I did so 🙂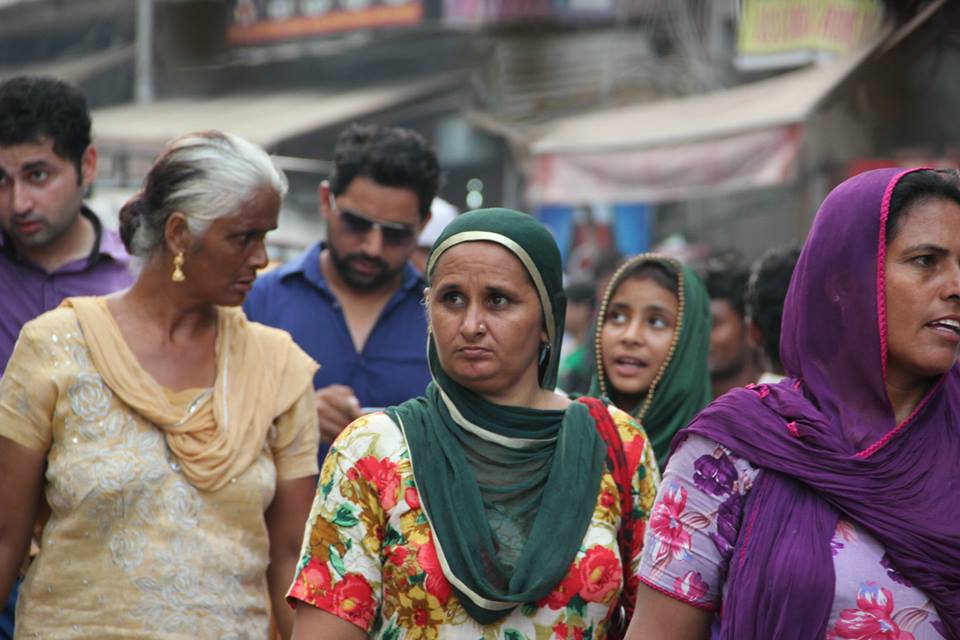 Yes, This is about the lady in the Middle in Green Dupatta. The moment I saw her in the crowded streets of Amritsar, I knew I had to capture her in my camera. Such a Poise, Such a Strong Statement she made while she walked fearlessly. She may have lot many sad stories behind her, However, now it is those very stories that has made her what she seems to be today. Confident and Dominating!

This Pic has 4 Beautiful Ladies and I'm honored to say that one of them is my Wife, Gurleen Kaur 🙂
This was taken in Gulmarg, Kashmir.
Iske picche ek kahani hai. I was walking towards the parking and Gurleen was behind me. And then i saw these women coming mere aage se. I loved the Moment and started clicking them without them knowing about it. And then hid the camera as soon as they come closer. When they came closer, they started pointing towards me and that made me scared. However, I breathed a sigh of relief when they crossed me. And then After 2 minutes when I stopped to look back for Gurleen, I saw her talking with this beautiful trio. For a moment I thought they are complaining about me and I rushed to say sorry. Par paas jaakar pata chala, they loved Gurleen's hair and wanted to ask her what she uses. Rather They were pointing towards Gurleen and appreciating her beauty and I thought it was me the culprit. Thanks to the Moment, I was able to capture these String beautiful Women in my camera and am able to share it with you today.
Shall be sharing more soon. Keep Watching and do see the other Episodes of the same series, if you have not.
All the shots have been taken Randomly and is without the permission of the Subject. If Anybody finds any picture Disturbing/Objectionable, Then please mail me and I would be happy to apologise and take that picture down!