Can you tell me what's the connection with Food and Fashion?
Both of them begin with the alphabet F and gives us the same result and that result to starts with the letter ie. Fun.
Last week I was invited to one such event where We had Lots of Fun, while be Ate some Good Food and Saw some new Fashion range from great designers.
The event was called "FashionnQuill" and was organized at Sirocco – The Beer garden, situated in MGF Metropolitan Mall.
Arre, I forgot one more F.
That F is the most powerful, FEMALE.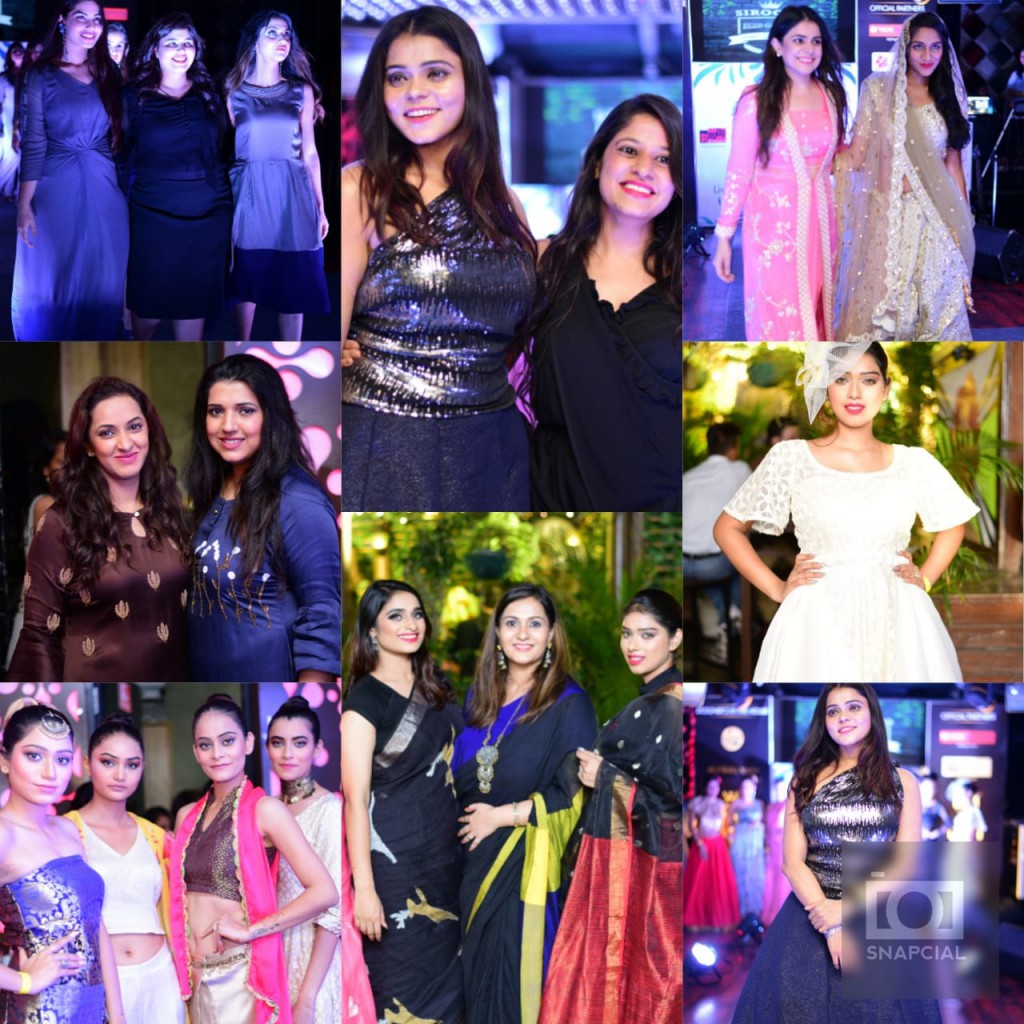 All the Designers were female as this evening was dedicated to Women Empowerment.
Ab jab hum pahunche, the Stage was Set, Lights Cham Cham Chamak rahi thi, Ramp was ready.
And we realized we were 20 minutes before time and utilized that time by Checking out the Food at the restaurant.
The Chicken Tikkas were great and so were Veg Spring Rolls. Well Plated, each dish came with its Dips and salad and that was a good enough reason to try more dishes later.
I got to know ki "FashionnQuill is a dynamic platform dedicated to interacting with the audience through the sense of Fashion and Expression"
Sach kahu to loved the feeling stated above with keyword being Expression.
As Crii Jami Said "Everyone has their own ways of expression. I believe we all have a lot to say, but finding ways to say it is more than half the battle."
So each one has different ways to Express themselves and these ladies today were expressing themselves through fashion.
Sabse pehle to Designer Surbhi Goyal under the label "Kransi" projected her designs that spoke about self-liberalized women by creating a unique preposition of sharp fashion at the horizon of logic and creativity. Loved the Creations.
Then Pavani Mittal and Neha Mittal's label "Happening" made the event more happening by displaying their collection that was called – "Gul-Dastah" which speaks about how the life of women is similar to the beauty of a flower. And mera to dil naam ne hi jeet liya tha. Jinko hi pata, "Gul-Dastah" means Bouquet of Flowers 🙂
Kritika Hans Label was "Curves on Style" and I was told that she believed in embracing the curves while bringing an eclectic mix of Indian and western outfits in an affordable range for every size. And her collection went perfectly well with the ethos.
Shweta Grover's label "Rangeen Pitara" dedicated the collection on how a modern woman believes in style and comfort, they displayed comfortable silhouettes with a dash of glamour and entire range kept us glued to the stage.
Akanksha Mago under the label "Akanksha Mago" displayed a wide range of ethnic and Indo western wear including dhoti sarees, tulip pants, short and long dresses, and bridal lehengas.
She created a perfect Fusion of Yesterday and Tomorrow making the Women of today feel comfortable in her dresses. I have noticed that women of today do many experiments, but somehow some of them are overdone. However, Akanksha Mago jee's creations were perfect in all senses. Rather will approach her soon for a Dress for Gurleen 😉
Designer Kanika, under the label "Weaves by Kanika" displayed a collection inspired by weavers at the grass root level to create something which is organic and beautiful. The soothing colours and soft fabric made it a winner for daily wear as well as for occasions, whether you head out with friends or for work.
Arre haan, Mrs Alka Arya (Mrs Universe 2017) graced the stage with Designer Surbhi Goyal at for Fashionnquill.
Overall a Mast Evening with Lovely Combination of Fashion, Food, Friends and FUN 🙂
Thanks a lot, SpotLYK Media for inviting me to this amazing event 🙂
Image Courtesy: SpotLYK Media