At the very outset let me tell you that Im a Big fan of Kishore Biyani Sahab.
He is the Man who understands Indian Consumer like nobody does. I have also shared one of my learnings from his Book in my Blog "The Gift of Gifting lessons my gifting Company taught me"
So when I got to know that there is a new brand launched as "Desi Atta" by his company "Future Consumer Limited" so I could not resist being a part of it.
Also 2 more reasons to be part of this event is that the Chef for the Evening was my Friend Chef Gautam Chaudhary and that it was held in one of my favourite hotels. "Taj City Centre", Gurgaon.
I reached at the venue thora jaldi and it gave me an opportunity to have a long chat about the brand and its products with Shridhar Taparia Bhai who is the Brand Chief for Desi Atta Company.
He is one of the most able and Knowledgable Brand Heads I have met.  he knows his product and the brand Philosophy inside out and is leaving no stone unturned to give Desi Atta the Place it deserves. Aaj kal maal to har koi bech leta hai, par apne Brand ke Liye Love and Respect create karna bahut mushkil hai and zaroori bhi.  That is what keeps the brand alive for decades to come. Shridhar Bhai is doing just that with Desi Atta.
The setup was done on one of the terraces of the hotel and it was beautiful arrangement and baad mein pata chala ki it has been done by Kreativ Street that is co founded by my friends @Prashant Singhroha and Neeraj Bhai.
The Set up included a Stage where Chef Gautam Bhai shall be cooking some products with Desi Atta Product, One side had Display of all 50 Varieties of Attas that Desi Atta produces and one side had Delicacies like Dahi vada, Upma, Makki Ki roti, Suji halwa all made from Desi Atta products.
The Event started by a small introduction about the Brand and flow of the evening.
Then Chef Gautam Bhai took the stage and shared with us how Desi Atta products are superior to the other similar products in the market and then created a wonderful Tikki made with Upma and then covered it with Oats before frying. We were lucky to have a bite and it was pure awesomeness.
And phir hum bhaage towards the Food Counter, Bhookh bhi lagi thi.
Apart from the usual Fare, it was good to see Beet Root ke atte ki Tikki and Sipnach aate ka Chilla. Never knew inka atta bhi hota hai. Also got to know that they are extremely easy to make.
One product that caught my eye was Besan ke Laddo ka Instant Atta. I requested to have a packet and ghar pahunchte hi banaya and within 5 mins Besan ke laddo teyar.
Bas garam garam Desi ghee uss powder meina dd kiya.. Mix kiya .. round shape di and ho gaya.
Me and Kids loved it…. Shall be getting one more jaldi se.
Ab will try the other attas at my place.
Some of other attas and Mixes they have are Medu Vada Mix, Upma Mix, Oats idly mix, peri peri Idly Mix, masala Chakli Mix, Thaali peeth mix, Moong Pakora Mix, Khaman Dhokla Mix etc.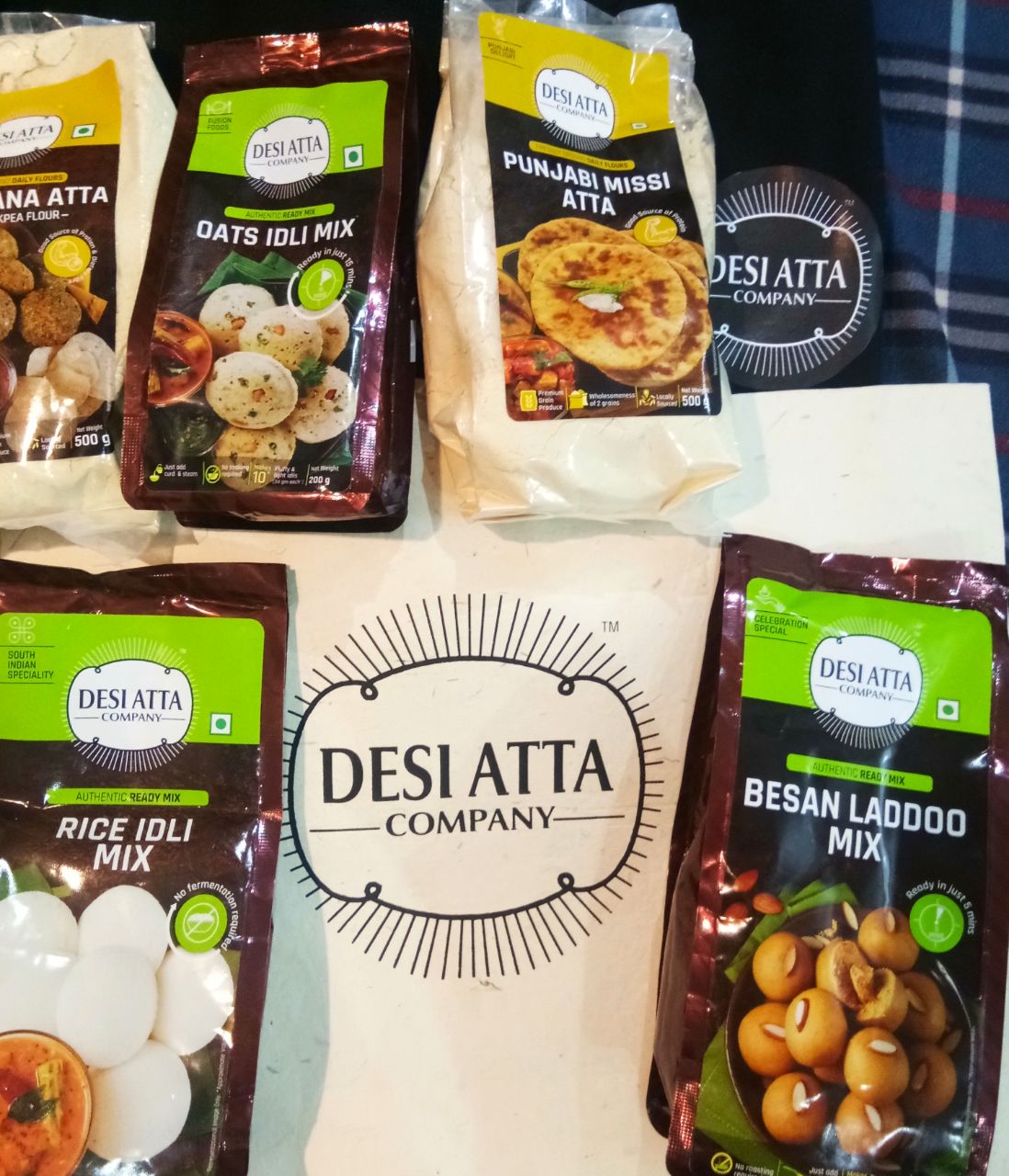 Its available in All Big bazaar Stores and other Modern Trade outlets too.