Kal Hargun ka 12th Class ka Farewell tha.
Beta Jee, "Saj Dhaj" ke gaye School and uske baad "After Party"
Mein aur Gurleen Kaur Tikku Cfp  chale gaye @vegas_mall Dwarka to see @nishantsuri11 Bhai ka stand-up dekhne.
We got free at 9:30 and headed to home.
Raaste mein Hargun se baat hui and he got free too so we decided will pick him up.
Ab bhookh lagi thi and somehow Ghar par Khaane/Mangwane ka Mann nahi tha.
Socha bahar chalte hai.
And kya khaana hai yeh sochne mein Time nahi lagaya.
For last 5 Days I have been telling Gurleen ki barriya sa Butter Chicken, Butter Naan khaane ka Mann kar rha hai, Jisko kha kar atma Tripat ho jaaye.
So bas ghar se @Gurbani ko Pick kiya, Uske baad Hargun ko and seedha pahunch gaye Ikk Panjab 
Ab "Ikk Panjab" se purana naata hai. If you remember we had done a month long "Road To Punjab" Food Festival together in 2019.
And na hi sirf unka khaana accha hai par the entire story that they create around Undivided Panjab is a delight to experience.
Khaali Jagah Mil gayi, Gaari lagayi and Dyodi paar karke hum pahunch gaye andar ek Rangeen Mahaul mein.
Uss mahaul mein jahaan chhat se Parandi Latak rahi hai, Rang Birange haath waale Pankhe lage hai, Aise Artefacts aur puraane utensils, Punjabi Ghar ka samaan parra hai ki tabiyat khush ho jayegi.
Humne Time nahi waste kiya. The order was clear in my mind
*Half Plate Chicken Pakora
*Ek Dal Makhni,
*Half Butter Chicken Boneless
*2 Butter Naan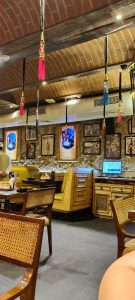 Order ke baad socha ki ek baar menu par nazar maar ke.
And pehle page par thi "Matthi Chhole"
Ab lohri par I Recvd a wonderful Hamper from Ikk Panjab. Usme the Matthi chole and itne barriya lage ki socha tha ki jab jaunga, zaroor khaunga.  So woh bhi order kiya.
In no time Chicken Pakora acche se wrapped in Kagaz and Rassi reached my Table. Garam-Garam. Already Chatkara tha usme par added chatkare ke liye saath mein aur chaat Masala bhi tha. 
Poora Desi Swaad, Maza aa gaya 
Matthi chole ki mein kya baat Karu, bas Khakar aankhein bandh ho jaani hai and mooh se Waaah waah waah hi nikalna hai.
Bas ab to Main Course ka Intezaar tha.
Internally I was praying ki khaana accha ho.
Sometimes, I dread to go to a place jo mujhe pasand hai. 
Darr lagta hai ki kahi experience kharaab na ho jaaye iss baar. 
And bacche jab saath mein hote hai then somehow I want them to experience the best only.
Abhi hum gappe maar hi rahe the ki mere Right se bheeni khushbu aayi and mein Palta.
Dekha ki Khaana aa gaya.
Pital ke bartano mein gaarra Butter Chicken and Makkhan waali Daal.
Ek baat pehle bta du, Inke Naan ke Size bahut Barre hai. So ek ek karke order karna. 
Hum chaaro ka Pait 2 Naan se hi Bhar gaya 😃
Plate mein maine thori si Daal Daali. Ek Piece Chicken ka
All this while I kept looking at children to see unka Reaction. 
Hargun ne shayad notice kar liya and bite khaane ke baad smiled. Chalo ek test clear.
Uske baad Gurbani being me, Picked her spoon, Took some Dal Makhhani and ate aise hi.
"Hmmm, Dal us Quite Good, I love it" she said.
Aah, Bas mujhe sukoon mila, I took my bite and it was just as Expected. MAST.
Acche se Karri hui Daanedaar Daal, Butter chicken aisa ki har ingredient aapki Zubaan par holi khel rha ho.
Naan aisa ki ek ek Layer alag karke kha lo.
Tabhi Chef se Mulaqat hui and he told ki kuch nayi dishes bhi add ki hai.
Ab mein aur kuch khanaa nahi chahta tha, Sun'na bhi nahi chahta tha 😃
Par then he mentioned Gurr Waali Kheer.
Aa gaya swaad mooh mein. And yeh sab aisi dishes hai jo har koi nahi banata, and Jo Ikk Panjab par banate hai, Woh har cheez ko pyaar se banate hai😊
Kuch der mein Gurr waali Kheer aa gayi and saath mein Chef ki Taraf se Gurr waali Kulfi bhi.
I was afraid ki Main Course ke khaane ka Experience dull na Parr jaaye. 
Par infact that complimented it beautifully.
Overall a Mazedaar Experience.
Ab Mann kar rha hai ki wapas jaau Din mein, Acchi Photos click Karu aapke liye and shayad ek Video bhi. Kya kehte ho 😊
Facebook post –  https://m.facebook.com/story.php?story_fbid=pfbid02nBKTV9ssYgS68g9preetUiWxcQRPcN82Mcp4ytQL75a7HyhXFn9hAkBYUNcmDZfCl&id=1096084089