Never knew that I shall ever Write a Recipe. Rather never even thought that I shall Cook.
But As it is said "Never Say Never"
So today I cooked and am also sharing the recipe because I loved what I cooked and meri pic dekh kar many members have requested for Recipe.
So here it is.
Chahiye Kya hai (Ingredients)
4-8 pieces – Poora (Full) Chicken sliced. (I don't recommend using Whole Chicken as it gets messy later and the probability of Poora Chicken not being cooked is High.)
2 Tablespoon – Balsamic Vinegar/Lemon Juice 
Salt & Pepper – as per taste 
2 Tablespoon – Red Chilli 
200 Grams- Curd 
1 Tablespoon – Cumin Powder
1 Tablespoon – Coriander Powder
1 Tablespoon – Garam masala
1 Tablespoon (Or Small piece of Ginger and 3 Bulbs of Garlic) – Ginger Garlic Paste
1 Tablespoon – Kasoori methi 
Dry Curry Patta (Dried Basil)
1 Tablespoon – Butter
Chalo Ji ab Banate hai (Steps):
Take a fork and Pierce the chicken Pieces so that the Masala reaches inside the Chicken.

In a mixing bowl, add vinegar, salt, and red chilli powder and mix well.

Add the chicken in the bowl and rub the mixture well onto the chicken. You can slice the chicken from a few sides and thrust the masala inside.

Haath se Rub karna acche se and leave it for 20 minutes to Marinate.


Meanwhile, take some curd and mix Cumin Powder, Coriander Powder, Thora red Chilli Powder, Garam Masala, Ginger Garlic Paste (If you don't have paste then Grate some Ginger and Garlic and add it), Kasoori methi, Thora Aur Vinegar or Lemon juice and mix kar lo acche se.

Uske baad rub the mixture on the chicken acche se again and do ensure to stuff it inside the cuts.

I Love Curry Patta. So I sprinkled some over the chicken. Not only it gives additional taste and Aroma but also ubarr khabarr texture to the Chicken.

Now place the chicken Pieces on the Mesh and sprinkle some Melted Butter or Desi ghee on it.

Bas ho gaya. Place the Chicken Mesh in Microwave for 20 Minutes.
If you don't have mesh and have kept in on Crust plate then do change the position of Chicken by Turning it around so that it gets cooked well from all sides.
You can also cook the same recipe in an Electric Tandoor, Grilled Pan, Oven or a Gas Tandoor.
Bas 20 minutes baad you can check ek corner ka piece torkar and khakar. If it's good then Take the Chicken out, Place it on a Plate, Serve with Pudine ki Chutney and Masala Pyaaz. Now you are happy and so is your Family and khaane par aaye mehmaan.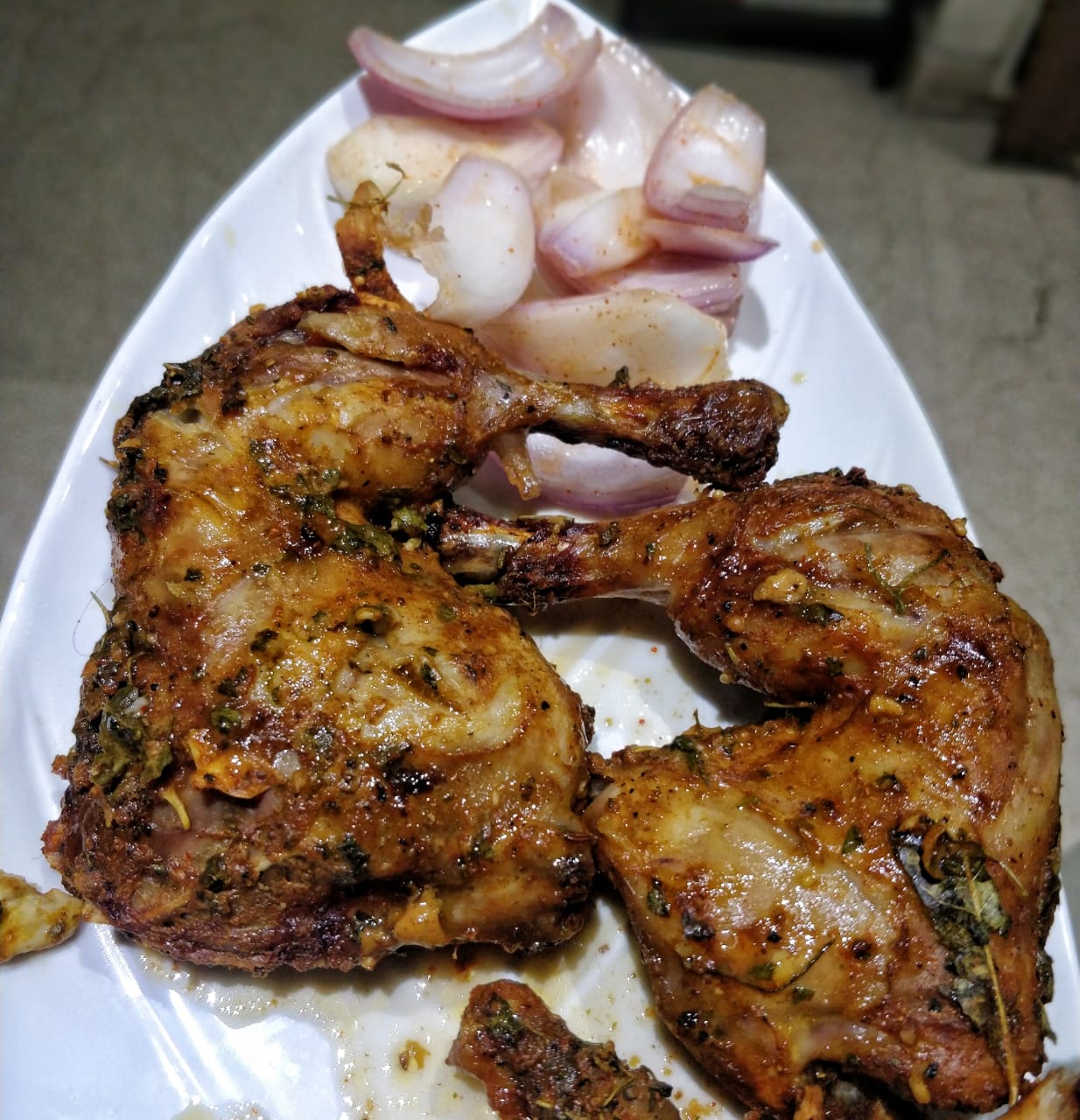 It is so Easy, Mazedaar and Healthy that you can have it every day with some variations in marination. Like Oregano, Maggi Masala, Red Wine, Lemon Grass, Fresh Orange Juice etc. Jo uss din ghar mein ho, ya fir Seasonal ho daal do.
Bas Ho gaya 🙂