"Arre Waah, you have your name on your T-shirt" and that was the first exchange of words we had and then conversations kept flowing, ranging from Movies and Food.
Ok, lets me be honest, it was all about food and even of "Food on Movie Sets"
And then the pretty lady in the room Saikeen jee asked me, so you are a Kashmiri because of Tikku Surname and I answered "Nahi jee, Nick Name was Twinkle and uska Tikku ban gaya and fir Nick name ko humne kuch saal pehle Surname bana diya"
Shreyas Talpade is an Actor we have seen entertaining us in movies like Dor, Iqbal, Om Shanti Om and yes Golmaal too.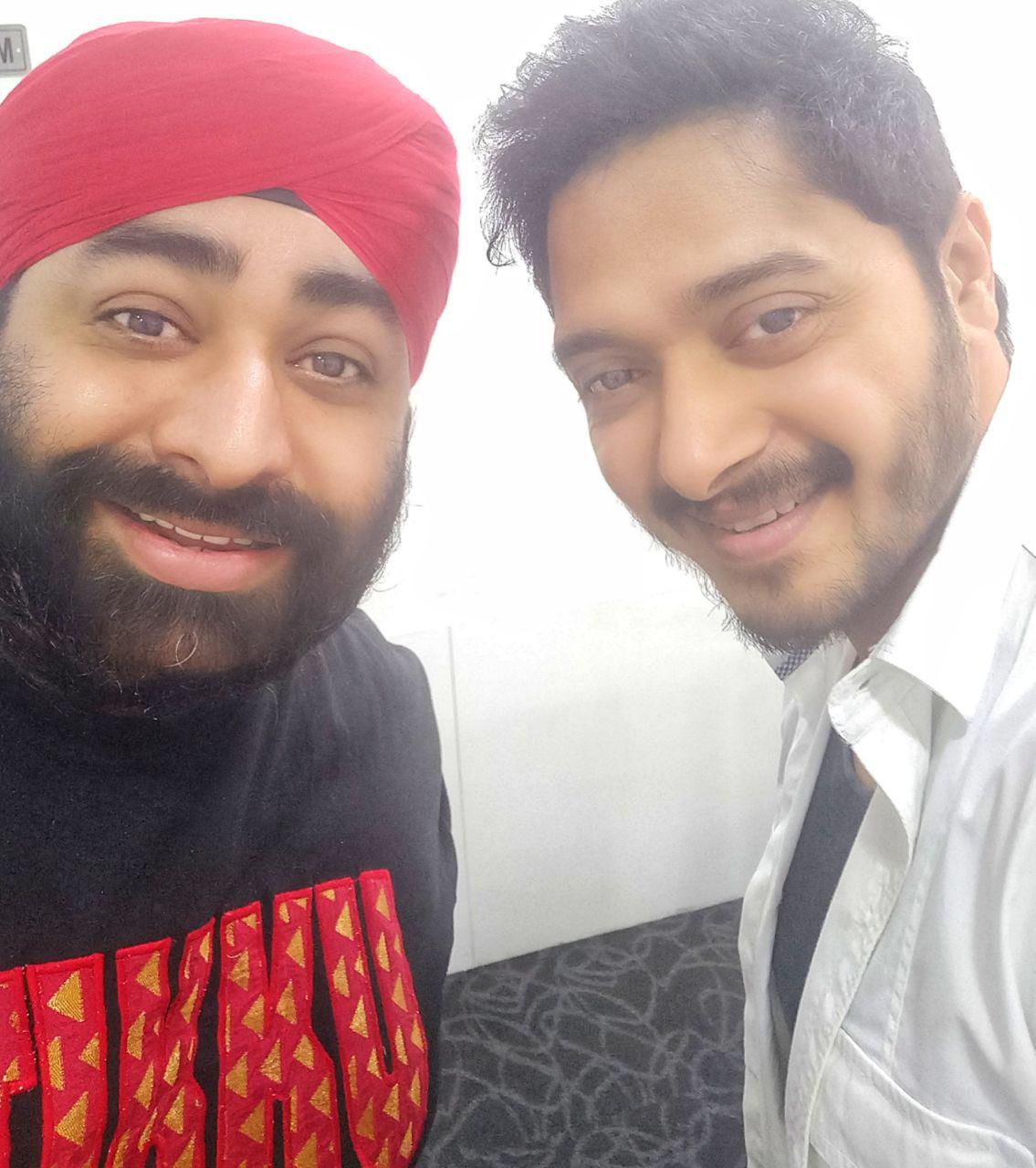 One who can do intense roles with same elan as Comedy roles.
And he was in town for an event at Top Digital Agencies of India, GroupM Media Gurgaon and @OMD to talk about himself & his work. Also we had a discussion about how Brand Integration in movies is creating new opportunities for Brands as well as Movies. This event was a runup to the 9th Jagran Film Festival starting 29th Jan 2018
Jagran Film Festival (JFF) is perhaps the world's largest travelling film festival rooted in India, conducted since 2010 and now is in its 9th year in 2018.
Those 30 mins that we had in a conference room with Shreyas Bhai shall be remembered for long.
While he ate his sandwich one could see the absence of the smile that he would had on his face if he would be eating Cholle Bhature. Yes that is the effect food has on you.
And I could not resist but ask him the most cliched Question "Since he travels so much, which city has been his favourite with regards to Food?"
Now we all know the answer, it's Delhi (Maarna mat mujhe), par the way he answered was amazing.
He said, "Hum jahaan jaate hai shooting ko, to kabhi kabhar we tell our team to scout for nearby places so that if the Shoot Food is not good then his team can fetch something for him". But that has never occurred in Delhi. He said "har kone mein barriya khaana milta hai so jab bhookh lagi, kahi se bhi kuch bhi mangwa lo and all sorted"
And achanak the talk moved to how Food plays a big role in each one's work. Food Gives Shaanti to body and the soul and unme se ek bhi shaant na ho to kaam bhi dhangg se nahi hota. So though he is a fitness freak, but he ensures what he eats Food that satisfies both his soul and his body and then that reflects in his work.
And yes, continuing on this further, he did mention that what he misses the most is eating at Road Side Eateries and Dhabas as people do tend to recognise him (Ofcourse yaar) and then uneasy ho jaata hai to even take a bite.
With all these Food talks, We had just started feeling the bhookh and then make up dada came for a Touch up. Time for a session with GroupM Employees.
I sneaked in there too and munched my box of popcorns while Vishwapriya Kochhar jee from www.blewminds.com chatted with Shreyas and made our afternoon more beautiful.
In those 30 Mins he talked about his Past, Present and Future, about his Fears, his Ambitions, His Mimicry and his Acting.
Somehow after yesterday chat, I have started thinking more on the "Brand integration in Movies" and shall write my thoughts and share aapke saath jaldi hi.
Tab tak aap jaakar Jagran Film Festival ko savour kijiye with some amazing movies. One of them is Asmad that I got a chance to see twice. First Time at the Premiere in Chandigarh (Yes, i specially travelled to Chandigarh for this as my Talented friend Abhishek Garg Bhai is the Assistant Director)
More Details about Jagran Film Festival and Registration Details below
Website & Registration Link : https://www.jagranfilmfestival.co.in/
FB Page https://www.facebook.com/JagranFilmFestival
Book my Show Registration Link : https://in.bookmyshow.com/…/jagran-film-fest…/register-login