To Enjoy the First few sentences, please read it as a Poetry 
🙂
"Kal kiya Farzi Café, Cyber Hub par naya menu Try,
Kuch usme se tha tandoori, Kuch tha fry,
Kuch tha Meetha kuch tha Teekha,
Kuch samajh mein aaya and Jo na samajh mein aaya uske baare mein Chef Sombir Se Seekha.
Ek ek karke btate hai aapko Apni visit ki kahaani,
Kuch baatien krenge Nayi, aur saath mein kuch puraani 
🙂"
Farzi Cafe is one restaurant that I have seen grown from the time when even first outlet DLF CyberHub was not open.
I have seen the Farzi Story unfurl and bloom to glory and hence it does have a special place in my heart.
Ab kuch to na Coincidences hote rehte hai. And abhi bhi aisa hi kuch hua. My FB memories popped up to tell me that I was at Farzi Cyber Cafe exactly an year ago to try their new menu, last year.
Ab I had a Glimpse of their new menu, on FB a day back and I knew what thora bahut to Expect.
3 Dishes that I was looking forward to eagerly were Guntur Chilli Chicken with Coconut Flakes, Paniyaram Scotch Quail Eggs and Balushahi 2.0
At exact 1 pm I entered through the Doors I was familiar with and seems they remembered me too as I heard a whisper "Hello Tikku". Doors hi honge, Deewaarein nahi. Kyuki Deewaron ke to sirf Kaan hote hai 
🙂
I knew my favorite Seat, Enter karte hi left mein Extreme Corner Table, jahaan Natural Day Light bhi aati hai and one can see people of all hues passing by.
Par aaj bahar dekhne ka mauka nahi mila as I had great company.
Mere Baithte hi Chef Sombir Bhaiya came over smilingly and told me that the new menu has some of the dishes picked from Menus of other Farzi Cafe's namely Hyderabad, Bangalore, London, Dubai, Mumbai etc.
To bas humne bhi keh diya shuru kiya jaaye.
*I ordered a Litchi Panna and abhi bahar nazar kari hi thi that Amuse Bouche of Mango Spheres was on my table.
Gulped it down and it bursted in my mouth, preparing me for the Mela of flavors ahead
Chef Sombir Bhaiya ko I requested to keep the Portion Size Small as I was the only one dining and zyada aata to waste ho jaata. Hence the Portions that you see in my photos are not the actual Quantity served regularly
*Paniyaram Scotch Quail Eggs. – Now Scotch Eggs
(For the ones who are reading about Scotch Eggs for the first time
A Scotch egg consists of a hard or soft-boiled egg wrapped in sausage meat, coated in bread crumbs and baked or deep-fried)
And Paniyaram is a South Indian Dish made my steaming the batter over a mould and I love this, Had this a few days back too from a Small Outlet in Old Rajinder Nagar)
Now Farzi had mixed the 2 concepts and what we got was a Tasty Delightful Bite and it was Crunchy and Soft at the same time.
*Tellicherry Pepper Chicken Wings – Now it is said that if you have only one Spice in your Kitchen then it should be Pepper, and if the pepper is from the Tellicherry Town of Kerala then Sone par Suhaga as they were grown the best grade in Indian pepper.
So naam parrkar Samajh aa gaya tha that with this Dish will pep me up with pepper. Giving me company for this was a friend whom I had barely met 2 hours ago.
Chalo batta hu, I went to Josh talks office to meet Manish Pandey Bhai whom I call Social media technical maverick. And wahi inse yaani Chemayne Singh se mulaqat hui. Pata chala that she is just back from a 3 year stay in Canada, is a Food Lover Punjabi like me, she has never been to Farzi. So ab ek Punjabi hi doosre Punjabi ke pait ka haal samajh sakta hai and I asked her to join me at Farzi Cafe an hour later.
Always good to have Interesting Company while eating.
Abhi Wings bola hi tha and she went down memory lane on how she loved her Buffalo Chicken Wings back in Canada and how she is still trying to find good ones in Delhi (Aapko pata ho to btana jee)
Tellicherry Pepper Chicken Wings on our table looked Divine. Samjhane lagoonga to you would drool on the keyboard, so aap sirf Pic dekhkar samajh jaiye. The wings are served with Blue Cheese Raita. Somehow Raita table mein chhup gaya tha kahi and I relished my Wings aise hi. Jab Raita dikhayi diya to Chicken nahi bacha. So I picked up my fork, Dipped in the raita and tasted it. Waaah Waaah Waaah is what escaped my lips. Next time Wings fir Order karne hai and Raite de naal hi khaane hai.
And by now I was joined by Neha Kohli jee who is Manager-Marketing for Massive Restaurants. Massive now has 9 Restaurant brands under its fold. Out of which at one I was Sitting at Farzi Cyberhub (Also been to CP, Jaipur & Dubai), MIP – Made in Punjab (Visited Noida, Mumbai,Cyberhub), Visited Kode (Mumbai), Visited PaPaYa Saket, Bo-Tai- Mehrauli. Now looking forward to visit TYGR in Mumbai and specially Farzi in London.
My dear friend Tanvi jee, who is Chandigarh ki kurri and works with Massive Restaurants in PR & Marketing was missed. Par accha hai, one more reason to come back for another meal.
*Now Guntur Chilli Chicken was also on top of my mind and when it came on my table and ek bite khaayi to ssssssssssss nikla. Niklana bhi tha and maza bhi aaya. I love how the dishes are named so that ek to story ban jaati hai and you get a taste of them even before taking the first bite.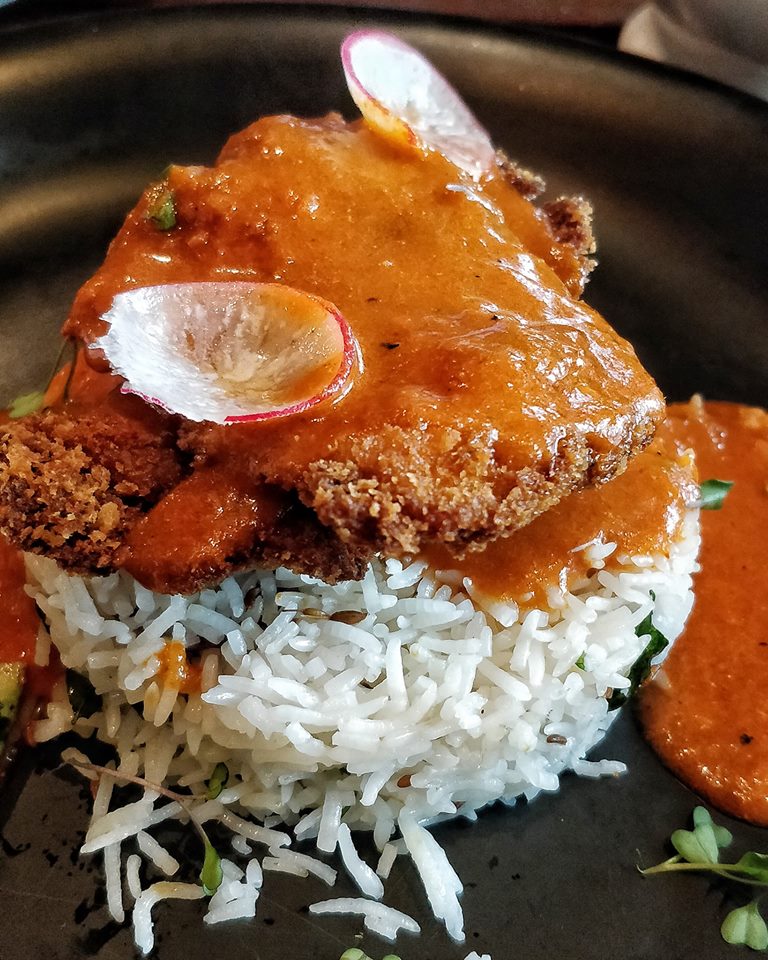 *Fish Pullimunchi, Onion Ghee Pulao- Waise mein apni writing mein zyada gyaan nahi deta. Par jab uske peeche ek kahani ho then I do, It enhances the Experience. So Guntur ho gaya, Tellicherry ho gaya and ab yeh Pullimunchi kya hai. So let me tell you that Puli means tamarind and Munchi refers to spice and collectively Pulimunchi is a spicy and tangy curry with its roots in Mangalore.
Now by the time this dish was on the table, Zorawar Kalra Bhaiya, who is the Master Mind behind Massive Restaurants and it's Massive Success was here at Farzi. The amount of Detailing he goes into to get perfection is what I have shared pehle bhi in my blogs and also in my talks to people I meet.
He ensured that I pour entire curry on our Ghee Pulao so that they mingle acche se and we get the perfect taste of the dish that they have created. It worked. Maza aaya.
WIll add a few lines here. Sometimes we miss eating the accompaniments in the dish like Mirchi, Pickle, Chutney etc and we forget ki jisne poori dish banayi hai une kuch soch kar, try kar kar hi rakha hoga yahaan. So with this thought, I had the Mirchi kept in my plate after a spoonful of Fish and Rice, Maza aa gaya jee. Kal baaki kuch kiya na kiya ho, par yeh zaroor seekha and aage se will take care.
Other Dishes that I relished and loved were Alooo Samosa Pin Wheel Chaat. CTM aka Chicken Tikka Masala with Cornish Cruncher Naan (Yeh Dish lagdi London di aa), Haleem Rissoto with Mutton Pickle, Mutton Irachi Pepper Fry with Malabar Parotta.
Arre Baba, Forgot one Star Dish, Avocado Chaat with Beetroot gel.
This is one dish jo mujhe naam se zyada samajh nahi aa rahi thi. I did not know what to expect. Par then looked like a piece of art when it arrived on the table. Ek bite Khaayi and phir khaata chala gaya. Aap Veg ho ya Non veg, Yeh dish pukka try karein. And so share ki aapko kaisi lagi.
*Balushahi is one Indian Sweetdish jo ab shehro mein kam dikhti hai kyuki shayad kam bikti hai. I remember my best ones were at Hira Sweets in Delhi, DDA Office ki Canteen mein and ek dukaan Jammu mein thi wahaan.
Farzi has its own Version which is very different from what you actually expect from Balushahi, Small Sweet Rolls filled with Rabbri Cream on a bed of pistaaaaas.
Ab khana Kha Liya, Gappe Maar li, Haath dhone ka time tha.
I headed to the bathroom to wash my hands acche se and saw jo maine kabhi nahi dekha.
I have been to this washroom bahut baari but for the first time saw that the Washbasin was stuck on a Cycle.
Somehow jaldi baaji mein we miss seeing the Beautiful details. This reminded me of Starbucks, BKC Bathroom that I termed as the most Beautiful bathroom in a Eatery which also had the Basin on top of a cycle. Waise that was the very evening when I had my first meal at Masala Library, BKC.
Isi baat par Bye Bye jee, And haan yaad Rakhna
"Zindagi Shudh honi Chahiye. And khaana FARZI"
🙂
PS: The Food was Sponsored, Review is not 
🙂