Rajouri Garden Walo ki kismat khul gayi !!
We have lots of RestroBars & lounges here .. Punjabi food wale bhi bahut the. Kami thi to bas ek acche cafe ki jahaan… Accha Khana… Acche rates par mil sake.
And today with opening of Hungry Heroes India woh kami bhi poori ho gayi.
Got to know that this Cafe has opened today in Rajouri market and once I entered from Appeal side, i could see the brightly lit board of Hunger Heroes.
Once inside, I felt very comfy in the cosy cafe with around 20 seats whose walls adorned busts and toys of Super Heroes ranging from Super man, Spider Man, Hulk, Batman and likes.
Rather the menus too have dishes based on Super hero or other.
The best part of menu is that its Short & Simple and covers everything from Pastas to pizzas and Burgers to Hotdogs. The starters are amazing and the shakes should not be missed.
However, if you are Chicken Wings lover like me… Then to bhaiya…. Kal hi ho aao.
They have THE BEST chicken wings. Right pieces with right skin covering and made in perfect BarBeQue Sauce and herbs. I not only ate a full plate there but also got one home and finished it thori der pehle. They are called Red Cape Chicken Wings and are priced at Rs 150 for 5 succulent pieces.
We also tried the Minion Gappas (Veg and Non veg 135/165) Those were Gol gappas filled with Shredded Chicken, topped with melted Cheese and some special Tangy sauce.
They have many shakes and we tried the Medusa's Dairy milk Shake that not only Tasted good but looked good too. Sorry hai jee… It looked so good ki I drank the whole lot without clicking the pic.
On our way back we also got a Thor's White Lightening 155/185 for kids and they loved that too.
So Next time you are in Rajouri Garden market shopping then you know where to stop to refresh your self and to fill your empty tummy then this is the place.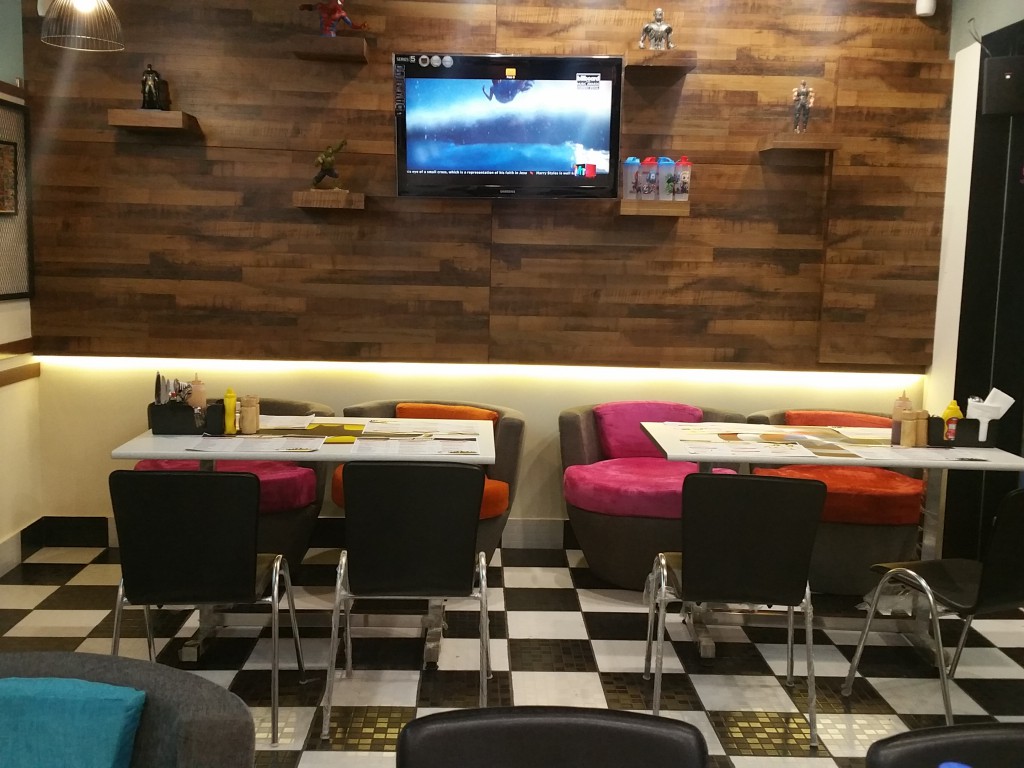 And agar aap aas paas hi rehte hai then do visit them any time and batana ki aapko kaisa laga.
The Couple Amreen Dhingra & Mandheer Dhingra who own the place seems to have lots of passion running in their veins to make their patron happy and it all shows in the place and its food.
Could write a few more interesting things… Magar rehne deta hu. aapne itna lamba parr liya wohi bahut hai.
Arre haan… its Kids Friendly place….. So take them along and see them smiling.