Cyber hub is undoubtedly the most happening place in Delhi & NCR having a number of different restaurants but there's one restaurant that has fascinated the entire cyber hub.
The Drunken Botanist is a newly opened restaurant offering cuisines like Continental, Chinese, Italian and North Indian.  The whole jungle themed restaurant with dim yellow lights, plastic plants inspired from the novel "The Drunken Botanist" by Amy Stewart makes you feel like you're in an actual botanist lab. The staff here was polite, courteous and they also have a dress code which adds a charm to the place. The whole idea of red floral shirts according to the jungle theme is just great!
Keeping the facts aside, the food here is exquisite. You can't just order two dishes and be satisfied, you will definitely end up ordering more. You'll be full but you will still want more just like I did.
 Here's what I had from the especial Drunken Botanist Menu:
The first thing that I ordered was the famous Japanese dish- Japanese Chicken Curry Puff which is cooked home-style and is served with a special sauce. As soon as you take a bite you are bound to get lost for a while. The puff and the chicken is cooked so well, it just melts in your mouth.
If you love pork like I do, you should definitely try the Pork belly rolls and Braised sesame Chilli Pork Belly. The rolls are so crisp and the Chilli Pork Belly was so soft and flavourful. It is cooked using the slow cooking method and is served with mini bao.
The name of the dishes here are eye-catching and that's why I ordered Chhole Bhature Taco. They are not like the regular dish, it has a new innovative twist to it and I am impressed by the idea.
Next up I ordered, Dal Makhani, Lal Maas Ravioli and Chilli Chicken. I can't even describe in words how good the Dal Makhani was, it was so rich in flavour and the aroma of butter was amazing. It is definitely one of the best Dal Makhani's I have ever had. The Lal Maas Ravioli and Chilli Chicken were great too.
Last but not the least, I ordered Vietnamese Summer Roll and Mediterranean Pizza.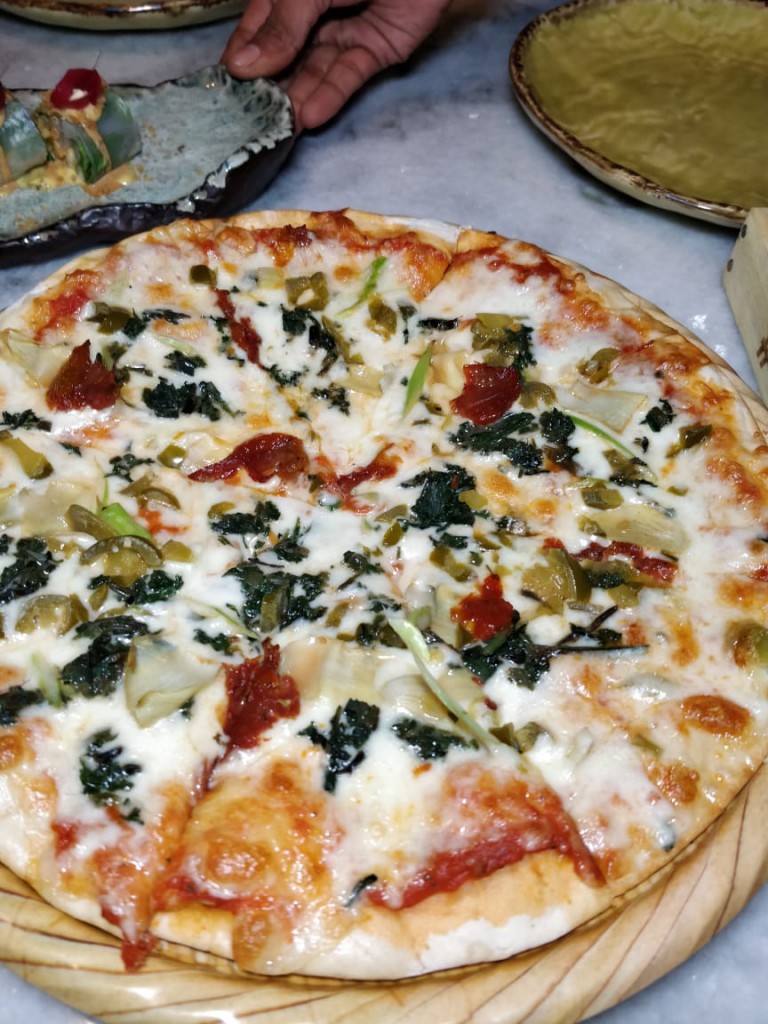 The roll is a famous Vietnamese roll stuffed with pickles, veggies and spices with sweet chilli mango sauce on top. The pizza was delicious with lots of cheese and was thin crust.
For drinks, I had two whiskey based cocktails –The Door Bell and Bourbon Sidecar.
The Door Bell is a combination of bourbon whiskey, almond syrup, lime juice and some secret botanic sweet sour syrup. The Bourbon Sidecar is a combination of bourbon whiskey, lime juice and maple syrup.
For vodka based cocktail we had Vodka smash. The spiciness of Jalapenos, absolut vodka with a bit of simple syrup and freshly squeezed lime juice.
And, for people who don't drink, Cucumber Cooler is the drink that you should go for. To beat the heat, it is the perfect refresher.
It is recommended that one should always end things on a sweet not and obviously no meal is complete without a dessert. So, for the Dessert I had Tres Leches which is sponge cake soaked in 3 different kinds of milk – evaporated, condensed milk and heavy cream. It is has strawberry cream topping on top and was finger lickin' good.
You must be tempted to try out all the dishes after reading so far. Don't wait up and try them all soon.
Head to Unit 1B & 1C, Upper Ground Floor-C, Building 10C, Cyber Hub, DLF Cyber City, Gurgaon
Pay ₹1,500 for two (approx) with alcohol
Call for reservations 099588 30546
Featured Photo Courtesy Of: The Drunken Botanist/ Mohit Kumar