Few days back a Biryani Lover told me "Only Aliens would not Love Biryani, Everyone else does" I replied "Biryani Aisi cheez hai ki Aliens bhi Love Karte honge" and I'm sure all of you would agree.
Biryani Cheez hi aisi hai, Na CHorri jaaye, mere Yaar ke jaisi hai, na Chorri jaaye 🙂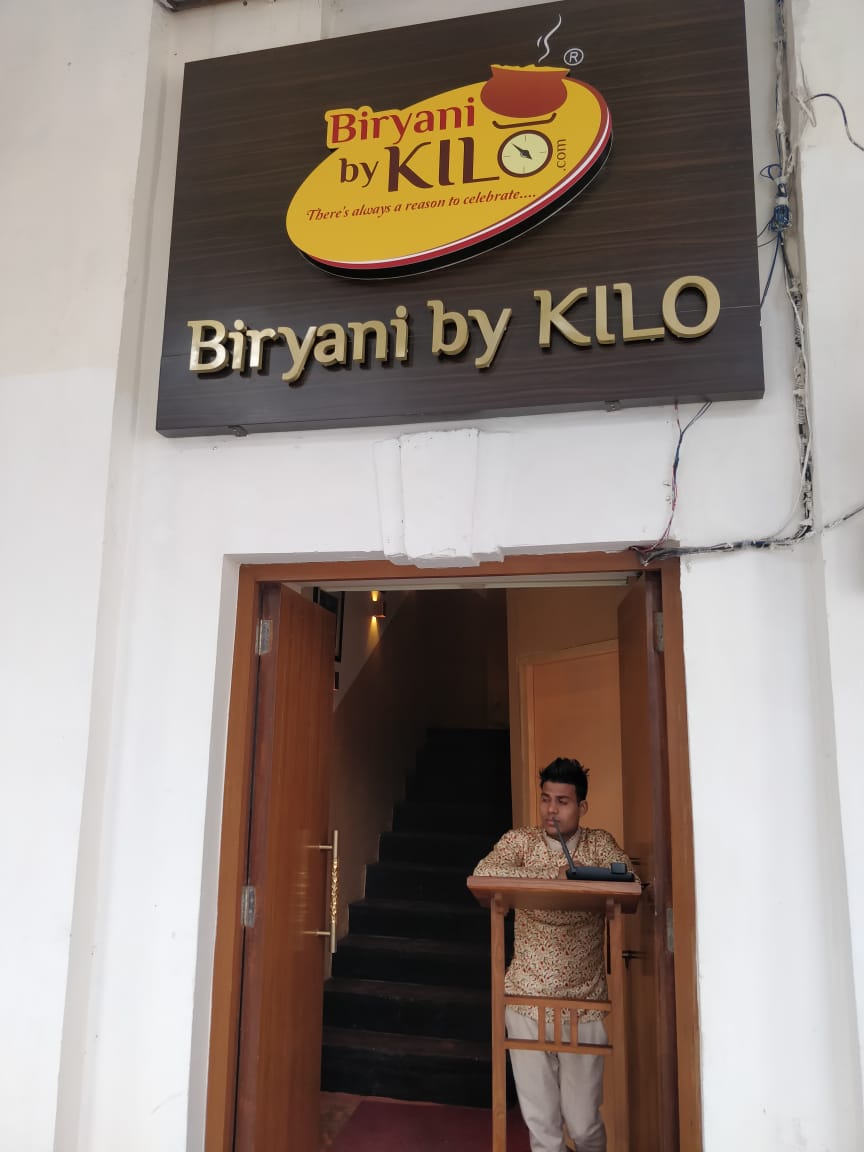 And shayad yehi reason hai ki I could not refuse an invite from Pawan Hora Bhai for a  Monday Lunch at Biryani By Kilo in Connaught Place. Ab Monday aisa shuru hoga to poora week bhi aaccha hi jayega. 🙂
Biryani by Kilo se I have ordered Multiple Times and first Time reviewed it also.
But here this was a concept in Dine-in. I was expecting the same Good taste of Food but was keen to see how they have replicated the Delivery Model into a Dine In.
The 34 Seater restaurant is nestled next to other landmarks like Oxford Book House/Cha Bar atop Chai Point.
The Entrance is welcoming and the pics alongside the wall keeps you so busy that you forget you have climbed almost 2 floors effortlessly.
Uppar you have Welcome Station number 2 where the hostess helps you seated.
The place takes is pretty cozy, done in earthy colors. Very Warm.
Immediately on being seated Copper ke Glass mein Thanda paani peeya and then Paparr aur CHutney ka sewan kiya 🙂
Normally I would Jump seedha to Biryani, but since I have tried their delicious Kebabs pehle, I ordered for them.
In no time, I was presented with Galauti Kebab, Mutton Pepper Fry & Chicken 65.
Galauti were as good as I had at any other special place and its combination with Ulte Tawe ka Parontha took the experience to next level.
Accha ke cheez aur, Kisi jagah ki Quality check karni ho to bas uske Pyaaz dekh lo. If they are Crunchy, Thore Thande and saaf Suthre then samjho khaana bhi aisa hoga, Vadiya.
And so was the case here. Pyaaz ke bina Desi Khaana Adhoora hai 🙂
I need to add that the Menu and Pricing are same in Dine-in as it's in Home Delivery. So aisa nahi hai ki Baithane ke extra paise le rahe hai.
Chicken 65 had the perfect Spiceness, Jisko khakar mooh se hssss bhi nikle and Paani peene ki iccha bhi na ho 🙂
All this was washed with sips of Imli Adraki lemonade. Somehow I thought that the quantity is less. Woh baat aur hai ki even the pricing was Rs 75 only. Done In ke hisaab se kaafi kam.  But on asking, Pawan Bhai told me that the Quantity, Quality, and Pricing is the same as in Home Delivery. So they don't want to keep 2 Quantity/Price Points for the same item. Very legit
Ab samay aaya Biryani ka.
Did not take both of us any time to Zero In on Mutton Boneless Biryani aka Malamaal Mutton Biryani 🙂
We had ordered Biryani along with kebabs, and samjho Kebab ki last bite khaayi and Biryani paish ho gayi.
Garam Matkki, Direct from Dum.
The Server got the Mattki in Mitten Covered Hands and jaise hi Lid was taken off, Biryani ki khushbu ne poor mahaul aur mast bana diya.
Uske baad bas mein Haatho se Biryani khaata raha, ungliyaan Chaat'ta raha.
I tried the Hyderabadi version but they do have Lucknawi and Kolkata version too.
And yes, Loved the Mention of Peshawari Chole Biryani & Kathal Biryani on the menu for my vegetarian Friends.
No meal is complete without Meetha and inki Phirnee to waise bhi special hai. Though Dastaan-e-Gul is also highly recommended by others. But I'm not a Gulkand Fan so gave it a slip and came back to my Favourite Phirnee.

Presented in a Mitti ka Kasora, it was Gaarri, Kesar ke Rang mein lababab, Daanedaar and Swadisht.
Now Looking forward to be back soon and try other Biryani.
Overall Great Experience. Rs 1200 for 2 ki Cost for a meal. Well Located. Good to go with Family, Friends & for Work Meetings too 🙂